What you need to know about Vladivostok
Map of  Vladivostok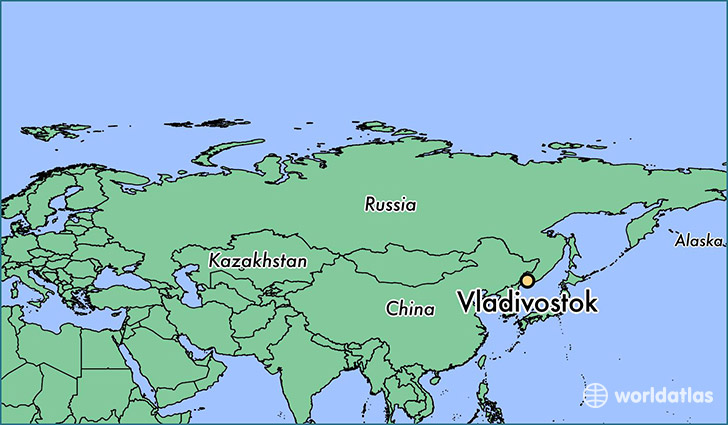 Vladivostok, literally ruler of the east) is a city and the administrative center of Primorsky Krai, Russia, located at the head of the Golden Horn Bay, not far from Russia's borders with China and North Korea. The population of the city as of 2016 is 606,653, up from 592,034 recorded in the 2010 Russian census. The city is the home port of the Russian Pacific Fleet and the largest Russian port on the Pacific Ocean.
Population: 606,653 (2016)
Language: Russian
Currency
Russian rubles
Banknotes at par value of 10, 50, 100, 500, 1000 and 5000 rubles are in free circulation and are issued. You may exchange currency for Russian rubles at any bank or currency exchange office in Vladivostok. US Dollars and Euros are accepted for exchange most often.
Economy
The city's main industries are shipping, commercial fishing, and the naval base. Fishing accounts for almost four-fifths of Vladivostok's commercial production. Other food production totals 11%.
A very important employer and a major source of revenue for the city's inhabitants is the import of Japanese cars. Besides salesmen, the industry employs repairmen, fitters, import clerks as well as shipping and railway companies. The Vladivostok dealers sell 250,000 cars a year, with 200,000 going to other parts of Russia. Every third worker in the Primorsky Krai has some relation to the automobile import business. In recent years, the Russian government has made attempts to improve the country's own car industry. This has included raising tariffs for imported cars, which has put the car import business in Vladivostok in difficulties. To compensate, Prime Minister Vladimir Putin ordered the car manufacturing company Sollers to move one of its factories from Moscow to Vladivostok. The move was completed in 2009, and the factory now employs about 700 locals. It is planned to produce 13,200 cars in Vladivostok in 2010.
Geography
The city is located in the southern extremity of Muravyov-Amursky Peninsula, which is about 30 kilometers (19 mi) long and 12 kilometers (7.5 mi) wide.
The highest point is Mount Kholodilnik, 257 meters (843 ft). Eagle's Nest Hill is often called the highest point of the city; but, with a height of only 199 meters (653 ft), or 214 meters (702 ft) according to other sources, it is the highest point of the downtown area, but not of the whole city.
Climate
Vladivostok has a monsoon influenced humid continental climate (Köppen climate classification Dwb) with warm, humid and rainy summers and cold, dry winters. Owing to the influence of the Siberian High, winters are far colder than a latitude of 43 degrees north should warrant given its low elevation and coastal location, with a January average of −12.3 °C (9.9 °F). Since the maritime influence is strong in summer, this results in a relatively cold annual climate given said location. Vladivostok's yearly mean of around 5 °C (41 °F) is some ten degrees lower than in cities on the French Riviera on a similar coastal latitude in Europe on the other extreme. Winters especially are around 20 °C (36 °F) colder than on the mildest coastlines this far north.
In winter, temperatures can drop below −20 °C (−4 °F) while mild spells of weather can raise daytime temperatures above freezing. The average monthly precipitation, mainly in the form of snow, is around 18.5 millimeters (0.73 in) from December to March. Snow is common during winter, but individual snowfalls are light, with a maximum snow depth of only 5 centimeters (2.0 in) in January. During winter, clear sunny days are common.
Summers are warm, humid and rainy, due to the East Asian monsoon. The warmest month is August, with an average temperature of +19.8 °C (67.6 °F). Vladivostok receives most of its precipitation during the summer months, and most summer days see some rainfall. Cloudy days are fairly common and because of the frequent rainfall, humidity is high, on average about 90%from June to August.
On average, Vladivostok receives 840 millimeters (33 in) per year, but the driest year was 1943, when 418 millimeters (16.5 in) of precipitation fell, and the wettest was 1974, with 1,272 millimeters (50.1 in) of precipitation. The winter months from December to March are dry, and in some years they have seen no measurable precipitation at all. Extremes range from −31.4 °C (−24.5 °F) in January 1931 to +33.6 °C (92.5 °F) in July 1939.
Transportation
The Trans-Siberian Railway was built to connect European Russia with Vladivostok, Russia's most important Pacific Ocean port. Finished in 1905, the rail line ran from Moscow to Vladivostok via several of Russia's main cities. Part of the railroad, known as the Chinese Eastern Line, crossed over into Manchuria, China, passing through Harbin, a major city in Manchuria. Today, Vladivostok serves as the main starting point for the Trans-Siberian portion of the Eurasian Land Bridge.
Vladivostok is the main air hub in the Russian Far East. Vladivostok International Airport (VVO) is the home base of Aurora airline – a Russian Far East air carrier, a subsidiary of Aeroflot. The airline was formed by Aeroflot in 2013 by amalgamating SAT Airlines and Vladivostok Avia. Vladivostok International Airport was significantly upgraded in 2013 with a new 3500 meter runway capable of accommodating all aircraft types without any restrictions. Terminal A was built in 2012 with capacity of 3.5 million passengers a year.
International flights connect Vladivostok with South Korea, Japan, China, North Korea , Philippines and Vietnam.
It is possible to get to Vladivostok from several of the larger cities in Russia. Regular flights to Seattle, Washington, were available in the 1990s but have been canceled since. Vladivostok Air was flying to Anchorage, Alaska, from July 2008 to 2013 before its transformation into Aurora airline.
Vladivostok is the starting point of Ussuri Highway (M60) to Khabarovsk, the easternmost part of Trans-Siberian Highway that goes all the way to Moscow and Saint Petersburg via Novosibirsk. The other main highways go east to Nakhodka and south to Khasan.